Sometimes the simplest things are the best solution. Our Tool of the Month is a universal brake rewind tool. This is a really nifty tool and will be great for so many jobs in the workshop. Remember we are happy to chat with you about the right tools and parts for any job, any time, just give us a call.
Tool of the Month
BRAKE REWIND TOOL
 

We are excited about this new tool, you have to check out the video to see how awesome this will be. This new brake rewind tool from Laser Tools features an adjustable adaptor that will fit pistons with a pin distance between 20 — 35 millimetres — this covers many popular vehicle applications.
You don't need all those brake rewind tool adaptors! Now there is a better solution. This new brake rewind tool from Endeavour Tools features an adjustable two-pin adaptor that will fit pistons with a pin distance between 20 — 35 millimetres — this covers many popular vehicle applications.
The big advantage of this rewind tool is that it features a powerful internal spring. This applies firm pressure to the piston as you turn the T-handle to make sure the inner piston mechanism is wound back.
The set also includes an adjustable three-pin adaptor which is designed for electronic park brake calipers. Again, the ability to adjust the adaptor means that it will fit many vehicle applications. Plus a standard two-pin adaptor is also included which enables it to be used with any piston adaptor, for example, single-pin versions.
Special Indent Price of $198 + GST
* Stock arriving soon, get your orders in now!!
See the brake rewind tool in action, this video shows a laser tool but our Endeavout tool is the same high quality. 
Ignition Coil Puller for VW/Audi
6298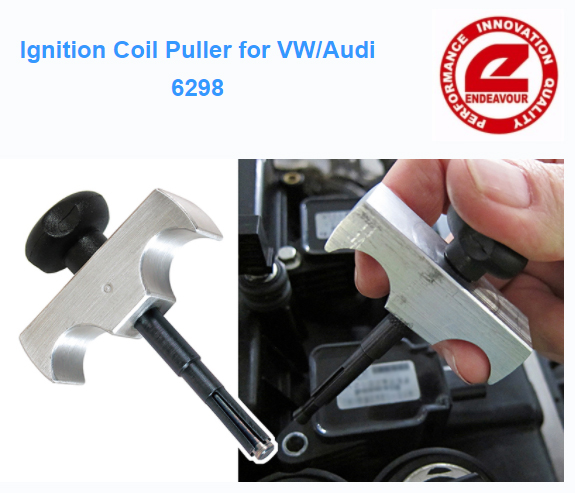 With long life service schedules and modern VW/Audi petrol engines running very cleanly, spark plugs are rarely changed. However, at service time when the plugs do need to be changed, and with their coil-on-plug systems after up to 40,000 miles the coil packs don't want to budge! They sit deep down between the camshafts, access is difficult, and the tight fitting rubber boot will not easily come apart from the spark plug. 
The answer is this ignition coil puller from Endeavour Tools. The coil pack securing screw is removed and the coil puller is inserted into the screw hole. Turn the knob and the shaft expands to firmly grip the coil pack which can then be steadily removed without any damage.
This part fits the Golf 2013 onwards, Audi A3 2013 onwards, Seat Leon 2013 onwards and Octavia 2013 onwards, running the 4-cylinder 1.2/1.4 litre direct injection engine, and 4-cylinder direct injection 2.0 litre 4v turbocharger chain drive Generation 111 engines.
Get yours today for just
$58 +GST