We have a great repair solution for you this month from Ruville for PSA vehicles, which can literally save a car from the scrap heap by repairing the stub shaft and needle bearings. We also have some great tool specials for you as well. Wishing you a productive few weeks up until Christmas.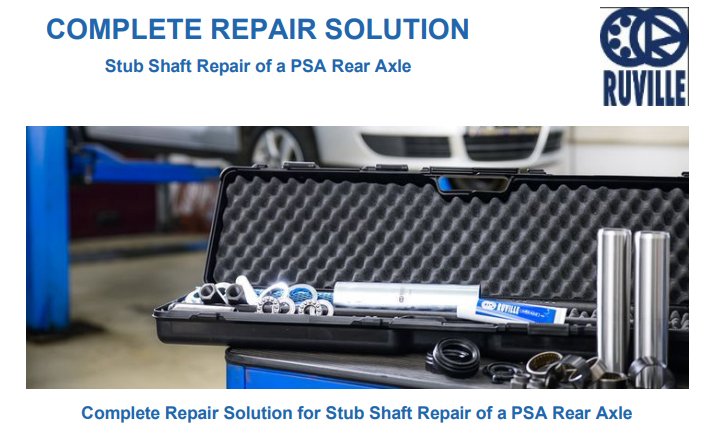 A Ruville Repair Kit for vehicle manufacturer / Models: Citroen/ Peugeot Xsara, Zx, 205, 306, 309, (Specialty tool not required) Peugeot 206cc (from Contr.No. 09501 88) 206 Hatchback, SW, Van 206Peugeot 206cc (to contr.No. 09500 88) Citroen/Peugeot AX, Saxo, 106 with and without stabiliser.
Current situation:
Major Wear on Rear Axles Garages are increasingly finding rear axles on various types of vehicles from the PSA Group that are suffering from major wear. High mileage and the small operating range of the needle bearings cause the rolling elements in the stub shaft to grind down. Leakage due to porous shaft seals allows dirt and moisture to penetrate the component causing serious oxidation of both the stub shaft and needle bearings. This kind of damage inevitably leads to a misalignment of the rear wheels with the usual unwanted results – like loud running noise and deterioration of handling attributes. This causes other chassis components to suffer heavy wear and tear. At the vehicle's main inspection, these damages are so severe that they prevent the vehicle from getting the WOF sticker that it needs. Because individual stub shafts were not available as a separate part until now, the entire rear axle casing had to be replaced.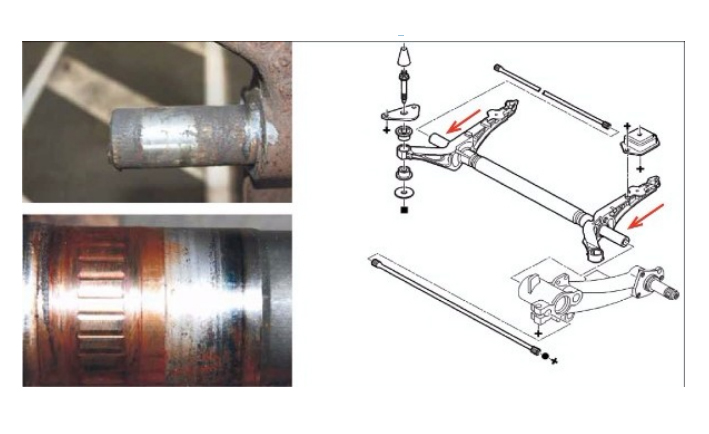 A Repair that's worth doing.
The cost for repairing damages as described above is often greater than the value of the vehicle. So a lot of these vehicles have to be replaced by a new vehicle and when this happens the garage loses a customer. RUVILLE has developed an innovative repair kit that offers a fair, current­value repair solution for these vehicles. In the repair kit are all spare parts necessary for repair. Besides needle bearings and seals, you can also replace the stub shaft, which means you don't have to replace the complete rear axle. RUVILLE also offers a special tool that allows you to repair all vehicle types with this rear axle architecture. Benefits: Customer loyalty is maintained Easy parts acquisition Fair, current­value repair OE quality parts and tools The customers saves 40% on costs Low tool hire costs
Hire for just $100+GST & shipping
We also provide the full repair kit with all the parts required.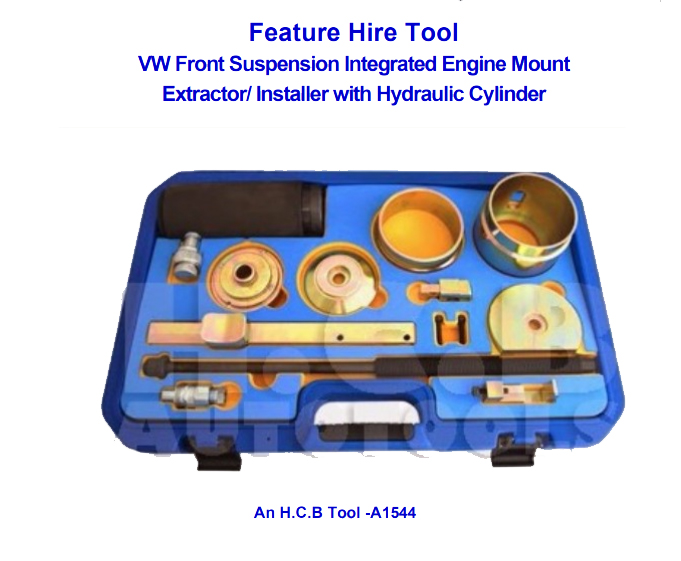 Product Specifications /Features :
* The A1544 pulling device allows the quick and safe removal and installation of assembly carrier double­type silent blocs to be performed in situ on the vehicle. Loosening or removing the assembly carrier from the vehicle as well as follow­up wheel alignments is not necessary.
* Application Suitable for the Following Models: Audi A3 (8P1), 05/2003 onwards; Audi TT (8J3, 8J9) from 08/2006 to 06/2010; Seat Altea (5P5, 5P5, 5P8) 03/2004 onwards;  6/9 Seat Leon (1P1) 05/2005 onwards; Seat Toledo III (5P2) from 04/2004 to 05/2009; Skoda Octavia (1Z3, 1Z5) from 02/2004 to 12/2010; VW Caddy III (2KA, 2KB, 2KH, 2KJ, 2CA, 2CB, 2CH, 2CJ) from 04/2004 to 08/2010; VW EOS (1F7, 1F8) 06/2006 onwards; VW Golf Plus (5M1, 521) 01/2005 onwards; VW Golf V (1K1, 1K5) from 10/2003 to 2009; VW Golf VI (5K1, AJ5) 10/2008 onwards; VW Jetta III (1K2) from 08/2005 to 10/2010; VW Touran (1T1, 1T2, 1T3) 08/2003 onwards; VW Passat (3C2, 3C5, 362, 365) from 03/2005 to 06/2010; VW Scirocco (137) 05/2008 onwards; VW Tiguan 5N 09/2007 onwards.
Hire for just $100+GST & Shipping or buy your own for $1186+gst
*get in quick only one left
Click the image above to see a video of this tool at work. 
Don't forget we also stock Top Quality European Rubber ­metal Bearings for this repair from Meyle.